The Enchanted Dagger #5 – Page 4
on
October 8, 2019
at
1:13 pm
I had intended to for the Blimp/arrival at the circus to be its own two page spread, pages 4 and 5, following the three page Stillface/Porq crew encounter.  Then I'd have a full two pages to introduce Kit Carson, Sacajawea and the Wraith.  As space was limited I had to cram that all in to five pages.  I'd have liked to elaborate on the Blimp landing and greeting the citizenry.  It also would have made it easier to portray Carson's jacked up Train Caboose, which overlaps the top panel a little awkwardly.  But I really wanted the bottom panel to stay as it was to get all of our new characters in there.
More importantly, you can see now where I got the idea for our cover image.  The Wraith was a relatively late addition to the comic and there is a good story about how he came to be here.  Like most of our other characters, The Wraith was a golden age comic book character, a ghost, essentially.  But his 1940's character bears no resemblance to the one we have here.  Heres the story…
One of my pals from the pool hall was an aspiring screenplay writer.  He wasn't really into comics (his stories were more like… Young girl helps out Old man with Alzheimer's who thinks he's in 1940 swing dance club…that sort of thing).  Despite this, I suggested we try to plot out a story that could be converted into a "Middle brow" comic property…the sort of thing they convert into a movie/tv show.  Nothing came of it, except for a vague notion of doing something about the challenges of our crumbling American dream, set in a debilitated American town/small city.  I got it in my head to set the story in Harper's Ferry, VA and it's surrounding suburbs.  It was a little over an hour away, thereby accessible for compiling source material.  (My friend insisted that it take place in Wheeling West Va, 7 hours away, for some dumb reason.  The effort petered out after that.)
I liked the idea of doing some kind of ghost story and Harper's Ferry seemed like a great locale.  So, to keep a loose connection to Golden Age Comics, I went looking for good ghost characters and found the Wraith.  Harper's Ferry is a historical town, of course, being the sight of John Brown's famous raid against a government arsenal, for which he was captured and executed.  I like the idea of one of John Browns fallen comrades, a former slave, perhaps, coming back from the dead to haunt the town.  He'd haunt neo-nazis and pain-med peddling doctors and the like….maybe hunting down the descendants of the racist hillbillies who did him in way back when.  The ghosts of americana….
I had a pretty good idea of what this Wraith character would look like.  A little bit like Obama in a vampire cloak.  It was, like, totally obvious!  I decided to do some research and see what kind of information I could find about John Brown's raid and his men.  Almost immediately, and to my genuinely spooky surprise, I very quickly came across this guy ~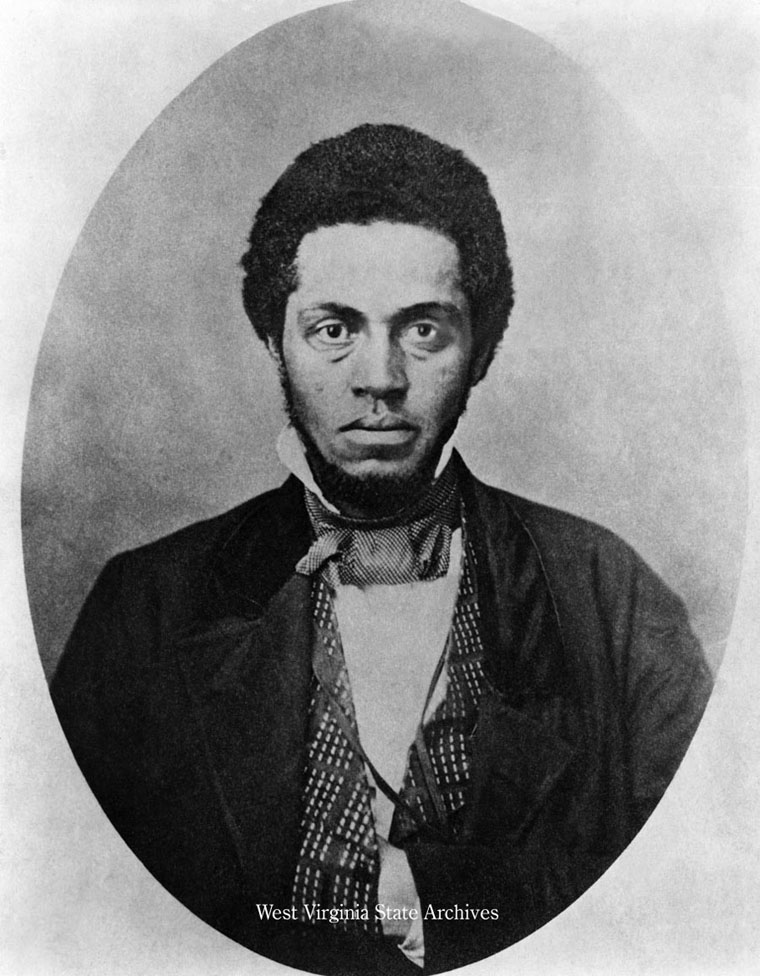 Osbourne Perry  Anderson, the sole survivor of John Brown's raid and one of the abolitionist's chief lieutenants.  I had never heard of OPA before.  Suddenly finding him staring back at me from beyond/google images was downright spine tingling.  I think it was also Halloween time, adding to the creepiness.   Needless to say, I felt like I had come up with a pretty good premise!  One that, like the EDag, seemed to transcend the etheral plane to compel my creative efforts.  This was one of those ideas that made me temporarily want to stop working on EDag immediately and throw my full effort into the new project.  In fact, I very quickly drew up a 6 page intro for the story.  Maybe I'll ink it and color it and share it at some point.  As it stands, The Wraith/Harper's Ferry story is percolating on the back burner, waiting for that second wave of inspiration, but he quickly found his way into EDag.  I thought he'd be a perfect addition to the Kit Carson/Sacajawea segment as another American folk hero cameo.  I should do some more work on that one, but until then here he is…
Anderson, who was born free in Pennsylvania, wrote about his experiences at Harper's Ferry in book entitled A Voice from Harper's Ferry which you can read for free online. He would serve the Union in the Civil War and die at the age of 42 in Washington DC, which is connected to Harpers' Ferry by way of the Chesapeake and Ohio Canal.
Maybe I should take a drive out there…