Kalthar: Giant Man/King of the Jungle – Page 5
on
May 1, 2021
at
1:06 pm
There isn't a ton of information available about Lin Streeter, the artist associated most with the creation of Kalthar along with writer Harry Shorten, but I was able to locate a pretty thorough biography on a blog called "Tenth Letter of the Alphabet".  Born in 1915 or there abouts, Streeter grew up in Brooklyn and New Jersey and was working as an illustrator prior to WWII.  He'd have been about 25 when he made Kalthar.  He inlisted after Pearl Harbor like everyone else (not to long after he drew Kalthar, I would guess) and found himself as the staff artist for the 22 Infantry Regiment newspaper The Double Deuce working along side distinguished civilian author and future Pulitzer Prize winner, John Cheever.  Tenth Letter recounts an amusing story from a biography of Cheever;
"Things began to look up, a little, when Cheever was transferred to Special Services a couple days later and declared editor of a weekly regimental newspaper, The Double Deucer. Paired with a cartoonist, Lin Streeter (best known for "Pat Patriot, America's Joan of Arc"), Cheever tried to make the newspaper as entertaining as possible. Spoofing such hackneyed features as the Inquiring Reporter (I don't know how the Major will take it, but I'm sure the men will like it"). Meanwhile he almost fell in the line of duty. On a cold day in February, an officious lieutenant insisted on helping him build a fire in the Recreation Hall, near the newspaper office, and ended up burning the place to the ground. With flames licking at his feet, Cheever ran out the back door with a typewriter and the stencil for the latest Double Deucer, which became "a special fire issue": when copies arrived from the printer, he and Streeter singed the bundle with a blowtorch as if it had been yanked from the fire in the nick of time."
Streeter would work in comics after the war including for Archie Comics and Timely, the company that would someday become Marvel.  His work would take on a more polished look than what we see in the super hero stuff like Kalthar… closer to something you'd see in a comic of Disney characters.
He died young in 1968.  Was he a big smoker like everyone else from his day?
Here is a image of one of his covers for a comic book he made called "The Enchanted Fish".  No kidding!  Any comic book artist courageous enough to use the word Enchanted in the title of his comic is okay with me!  Also here is a link to that blog… you can find links to look at more of his EFish art there.  http://alphabettenthletter.blogspot.com/2018/04/comics-lin-streeter-artist.html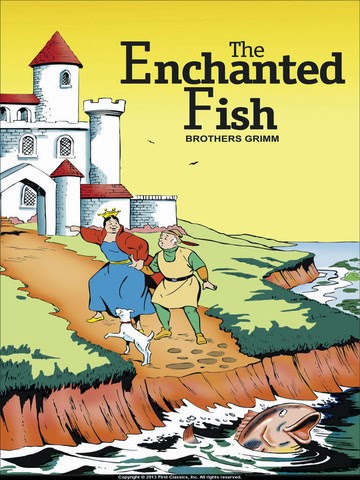 And here is the original art work for page 5….